Mitzi Adams
Astrophysicist, NASA
Mitzi joined the NASA workforce in March, 1988 as a graduate co-op student and was made a permanent employee in January 1991, upon completion of the Master's Degree. Her primary research work until approximately 2006 involved the use of ground-based data from MSFC's solar vector magnetograph.

With the launch of Hinode in 2006, Ms. Adams switched the research emphasis to data acquired in space and she continues to use data from the Solar Dynamics Observatory, launched in 2010. In addition to the research work, Ms. Adams supported Dr. John Davis with analysis from testing of the Solar X-ray Imager, built and tested at MSFC and launched in 2001 on the GOES-12 spacecraft, and she has supported and written webpages for the office.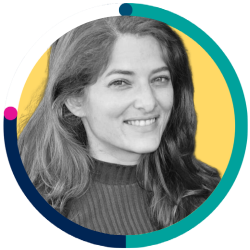 Rachel Bittner
Senior Research Scientist, Spotify
Rachel is a senior research scientist at Spotify. Before Spotify, she worked at NASA Ames Research Center in the Human Factors division. She received her Ph.D. degree in music technology and digital signal processing from New York University. Before that, she did a Master's degree in Mathematics at New York University, and a joint Bachelor's degree in Music Performance and Math at UC Irvine. Her research interests include automatic music transcription, musical source separation, machine listening, and dataset creation.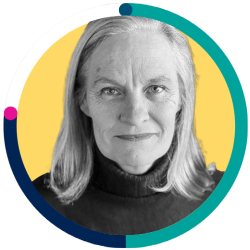 Gillian Christie
Chief Operating Officer, InclusionBridge
Gillian started her career in optimization theory in quantum chemistry where she was a research scientist playing with large explosive data sets in Johannesburg. She transitioned into finance, working in both London and New York, where she worked at firms including Deloitte, JPMorgan, Sungard and Credit Suisse.
More recently Gillian was the Chief Data Officer at an emotional data analytics firm. Gillian analyzed how individuals express emotion through emojis and how this can lead to better consumer feedback. Gillian most recently co-founded InclusionBridge alongside Taiwo Togun and Matthew Huggins where she looks to even the playing field within data science and continue to expand the diversity amongst data scientists.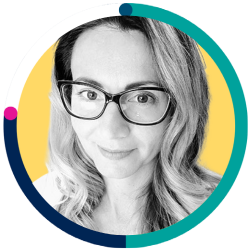 Tricia DelGaudio
Senior Product Marketing Manager, Intuit
Tricia is Senior Product Marketing Manager at Intuit leading go-to-market acquisition for QuickBooks Live, a virtual bookkeeping service. With a 15 year record in executing strategic marketing programs in the technology and consumer products and services segments, she has been recognized through numerous awards. By blending her creative background with deep consumer understanding, she layers design-thinking with data backed insights to build experiences that reach consumers. Tricia is known for her ability to bring teams together, leading the ever-evolving art of marketing.
Tricia holds a Bachelor of Fine Arts degree in Communication Design from the Milwaukee Institute of Art & Design, and a Master of Professional Studies degree in Branding from the School of Visual Arts in NYC.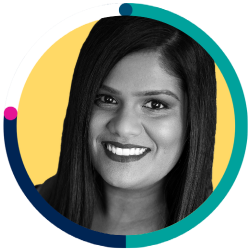 Preethi Elango
Data Science Manager, Southwest Airlines
Preethi is a Data Science Manager at Southwest Airlines where she is responsible for leading and developing a high performing team charged with delivery of a set of strategic and transformational data science and analytic goals for SWA.

Prior to that she played several roles where the common thread was to understand and assess the current state of data and analytics at Southwest, to develop a plan to advance capabilities and address gaps and to influence to organization to adopt these capabilities. Prior to finding her home at Southwest, she was a senior business intelligence consultant at Hitachi Consulting helping her clients leverage data as a strategic asset.

Preethi is passionate about opportunities that challenge her, help her grow, allow her to innovate, build sincere relationships and where she can create work product that resonates deeply with people and drives engagement and action.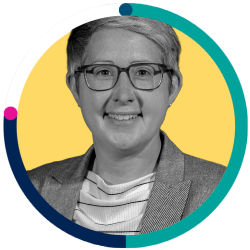 Dr. Anne Fischer
Deputy Director, Defense Sciences Office, DARPA
Dr. Anne was named deputy director of the Defense Sciences Office (DSO) in February 2022, after having served as acting deputy director since August 2021. She served as a program
manager in DSO from 2017-2021 and will continue to manage the Accelerated Molecular Discovery (AMD) and Rational Integrated Design of Energetics (RIDE) programs.

Prior to her appointment as program manager, Dr. Fischer served as a senior-level science adviser in DSO with the consulting firm Strategic Analysis, contributing to the development and implementation of programs across the office. Dr. Fischer also spent two years as an American Association for the Advancement of Science (AAAS) science and technology policy fellow at
the National Science Foundation and completed a National Research Council postdoctoral research associateship at the U.S. Naval Research Laboratory.

Dr. Fischer graduated summa cum laude with a Bachelor of Arts degree in chemistry from The College of Wooster and completed her Doctor of Philosophy degree in chemistry at Michigan
State University.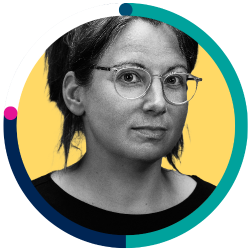 Eva-Lotta Lamm
Visual Thinker, Designer, Speaker
Eva-Lotta is a designer, author and visual thinker. After a 15-year-long career as a UX / digital product designer working in Paris and London for Google, Skype, and Yahoo!, she shifted her professional focus to her life-long passion of visual thinking.
She is now based in Berlin, running her own business designing (physical and digital) products that teach a global audience to use sketching as a tool for understanding, thinking and communicating more efficiently. Her mission is to empower people to make the complex problems they face in their work and daily life visual so they can 'see' them from a fresh perspective and solve them with more confidence, creativity and clarity.
Eva-Lotta is a sought after expert in her field. She is regularly speaking at international design conferences on the topics sketching, sketchnoting and visual thinking and has been teaching her craft both in-peron and online for over a decade.
In her spare time, Eva-Lotta practices yoga and improvisation, loves travelling, languages and learning new things. These passions have inspired several of her books capturing her experiences in the form of rich visual notes.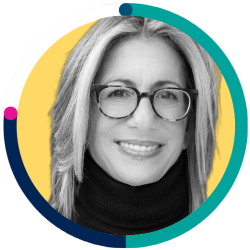 Virginia Gambale
Board Member, Virtu Financial
Managing Partner, Azimuth Partners
Virginia is a Managing Partner of Azimuth Partners LLC, where she operates globally, as an advisor and consultant, focused on growth and innovation strategies for technology and technology driven services companies in both middle market and large corporations and advisor to startup companies. She is highly regarded for her innovative thinking, leadership, and ability to deliver results. Ms. Gambale has served on over 20 Public and Private boards including: JetBlue, Motive, Piper Jaffray, Workbrain, Synchronoss Technologies and IQ Financial, among others.
As a former senior operating executive of Global Corporations, she held senior management positions (including CIO and Managing Director) at: Merrill Lynch, Bankers Trust, Deutsche Bank and Marsh & McLennan. Additionally, Ms. Gambale was the Head of Deutsche Bank Strategic Ventures, and subsequently a General Partner at Deutsche Bank Capital until founding Azimuth Partners in 2003. She is also an adjunct faculty member at Columbia University and Mentor for Columbia University's Masters in Technology Leadership and is a frequent lecturer and keynote speaker on the strategic use of emerging technologies. Ms. Gambale holds a B.S. from New York Institute of Technology-Old Westbury.
Jainy Selvakumar
Data Science Manager, Southwest Airlines
Jainy has 13+ years of experience in the data science, data strategy and technology space. Jainy currently serves as a Data Science Manager at Southwest Airlines, leading a multi-disciplinary team to deliver data science solutions and integrated data assets focused on driving value and enhancing business intelligence. In addition, Jainy manages the Center of Excellence for the Data Science Community at Southwest Airlines, enabling the work and governance of data science across the enterprise through the development of a talent strategy, promoting standards for model accuracy monitoring, knowledge management, and advancing analytics as a competitive advantage for the company.

Previous to Southwest, Jainy has experience working in tech in various industries including financial institutions, retail, consulting, and mergers and acquisitions. Jainy has a passion for people development and is known for her positive enthusiasm and infectious laugh.

Jainy holds a Bachelor of Science degree in Psychology from the University of St. Thomas and a Masters in Data Science degree from Southern Methodist University.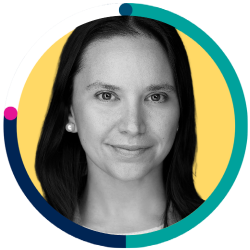 Obreahny O'Brien
CEO, Lenox Group
Obreahny is the CEO of Lenox Group – a New York based fintech focused on developing blockchain technology and artificial intelligence products for companies and family offices.

Prior to Lenox Group, Obreahny was the founding member and product lead for Ernst and Young's blockchain strategy group servicing large financial institutions. She developed Ernst and Young's capital raising token service offerings across a broad range of disciplines including: strategic planning; tax structuring; token ecosystem; and business model support.
In 2014, Obreahny co-developed the first smart contracts platform that interacted with the Bitcoin multi-sig protocol.

Obreahny began her career in the transaction advisory group at KPMG where she advised on mergers and acquisitions for bulge bracket and private equity clients.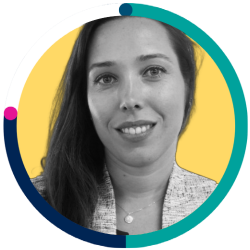 Priscila Acerbi
Senior Compliance Officer, Virtu Financial
Priscila has 10+ years of experience in the financial services industry, working in areas ranging from digital transformation to risk management and regulatory compliance. She currently works in Compliance for Virtu Financial where one of her focus areas is designing data-driven analytics to improve surveillance, identify trends and provide dynamic management decision making tools.
Prior to Virtu she spent 9 years in consulting at EY providing advisory to banking, capital markets and Fintech clients around the world. Priscila received her undergraduate degree in Economics and Foreign Affairs as well as her Masters in Finance from the University of Virginia.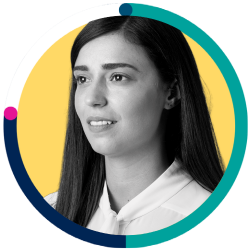 Carolina Andreoli
Head of User Experience, Virtu Financial
Carolina works across strategy and design to articulate the overall vision, which usually means translating the future of technology into something anyone could understand and use. She leads a team of UX architects and visual designers to deliver next-generation, beautiful applications for the firm's financial services clients.
In prior roles, she was part of one the largest UX teams at J.P. Morgan, consulted for UBS on one of the earliest cross-asset investment banking platforms and worked in several industries creating differentiated B2B and B2C experiences.
A passionate self-quantifier and data visualizer, Carolina has been featured in numerous publications and her work has been exhibited at the Adobe Museum of Digital Media. She graduated from the Central Saint Martins College of Arts in London and holds a BA in Graphic Design.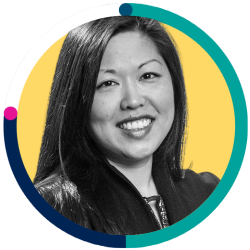 Christine Ma
Head of Americas Analytics Client Support, Virtu Financial
Christine has 15+ years of experience in data analytics and currently leads the North America Client Support organization for Virtu Analytics. Her responsibilities include supporting client use of trade execution tools, providing consulting expertise and deep insights to empower clients' trading processes towards better outcomes. Based in Toronto, Christine is also a member of Virtu's Canadian Leadership team and her most memorable work has included collaboration with the portfolio trading desk on large global transitions.
Christine initially joined ITG as an intern many years ago – prior to the firm's 2019 acquisition by Virtu Financial, and has held analyst, product, and relationship management roles. She holds a Bachelor of Mathematics in Operations Research from the University of Waterloo.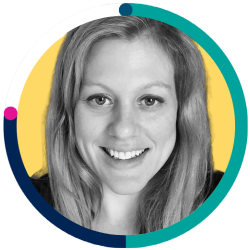 Erin Stanton
Global Head of Analytics Client Support, Virtu Financial
Erin has 12+ years of experience in big data and data science and she currently runs the Global Client Support organization for Virtu Analytics. Erin is known for her big energy which she brings to everything she does and has been more recently championing potential machine learning and AI techniques to answer client questions.
Erin is also the co-head of Virtu's Diversity and Inclusion Committee where she is personally dedicated to expanding women's roles within technology and data science.
Erin received her undergraduate degree in Computer Science and Economics from Lehigh University and has a Masters in Information and Data Science from UC Berkeley.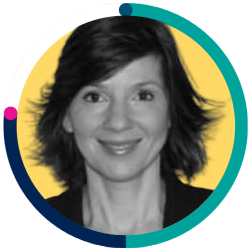 Vesna Straser
Trading Analytics Coverage, Virtu Financial
Vesna is senior analytics consultant in Virtu's Analytics Client Support group. She enjoys working with clients in providing trading analytics expertise aimed at process improvement and better execution performance. Her past experience ranges from trade execution advisory to algo product management and quantitative research across products in the electronic trading space.
Vesna holds a BA in economics from the University of Maribor, Slovenia and a PhD in economics from the University of Notre Dame, where she specialized in empirical market microstructure.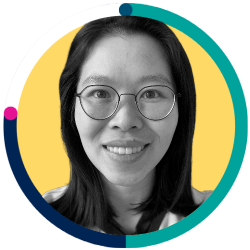 Yiyang Yang
Quantitative Strategist, Virtu Financial
Yiyang is a senior quantitative strategist with experience in various statistical arbitrage trading strategies across different markets. Her responsibility includes strategy research, forecast generation and evaluation, portfolio calibration based on data-driven decision process. She enjoys the great challenge of modeling the market, reasoning the price movement and uncovering interesting patterns.
Yiyang received her undergraduate degree in Mathematics from University of Science and Technology of China and a PhD degree in Computational Applied Mathematics from State University of New York at Stony Brook.